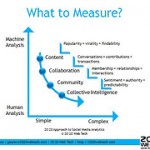 As I wrote in an earlier post, the world is getting more mobile and social and this all links to the cloud. In fact, the three are inextricably linked as mobile and the cloud make it so much easier to be social, whether posting a photo from your mobile phone to Facebook or checking in at your favorite restaurant on Foursquare. It's easy to think that this has nothing to do with you and your business, but as the world becomes more socially focused, it puts a powerful communications tool into the hands of your customers.
In the old days, the way business worked was you developed a product and crafted a message to sell the product. You controlled the entire process, especially what you told the customer. Whether they had a positive or negative experience with your product didn't matter much in the scheme of things because individual customers had no personal broadcasting platform except word of mouth and that wasn't very efficient. Today, that's all changed because using social media tools, customers can tell the world when they love your product, or conversely when they don't.
Customers are much more in control of the message now, and not only that, you as a company are much more engaged in a two-way conversation. That's why locking down external social media could end up being counter-productive. It actually makes sense to engage your customers in a dialogue and react to negative experiences before they escalate.
Because all of this important business is going on in social channels, there has to be a way to measure your engagement and that's precisely why IBM has developed two new products (from recent analytics company purchases). The first is IBM Coremetrics Social and the other is Unica Pivotal Veracity Email Optimization Suite.  What these tools have in common is that they give you the ability to track and understand your customers inside various social channels. The Unica tools tracks links from emails across social channels, while the Coremetrics product gives you the ability to measure the ever-elusive social media ROI.
As your conversations with your customers and between your customers (and other interested parties) moves into social channels outside of your direct control, it only makes sense that your organization begins to find tools that help you measure how effectively you are engaging with your customers in the online social sphere. Only by having meaningful metrics (as with any enterprise strategy) can you provide accurate measurement of just how effective your online social strategy is and tools like these examples can help you do that.
Photo by Guarvaronomics on Flickr. Used under Creative Commons License.