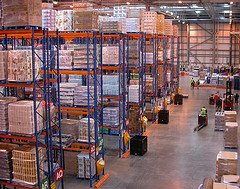 When you think about things you can measure inside the organization whether that's from a Business Service Management perspective or other general business measuring such as Business Intelligence (BI) or web analytics, one thing you probably don't rattle off the top of your head is "supply chain analytics."But as
Mary Jander points out on Internet Evolution
, the ability to measure what's happening in the supply chain could have tremendous value to organizations and in some ways would represent a business measurement holy grail.
A TechTarget's SearchManufacturing.erp.com article suggests that this technology has actually been around for more than a decade, but it's only beginning to come together now.
But as Jander indicates in her post, it's still a vague category, which some business people don't even acknowledge as a legitimate analytics category of its own. Regardless of what people may call it or where they place it in the business analytics space, according to Richard Sherman, director of North America for the Supply Chain Council, as quoted in Jander's post, only 15 percent of companies are doing this kind measuring in spite of its high perceived value.
That could be because of a lack of mature tools just yet to handle this and that means IT pros have to be involved to crunch the numbers and generate meaningful reports. Yet from an inventory tracking perspective alone, it seems to be a worthwhile goal for companies to pursue.
Whatever the reason for its lack of traction yet, it could be something your company may want to start exploring because if you can understand the supply chain at detail level, it could give you one more way giving your business an advantage in an increasingly competitive landscape.
Photo by Nick Saltmarsh on Flickr. Used under Creative Commons license.