VMware has introduced a new iPad app for IT professionals that enables you to monitor your virtual machines from the iPad. The vSphere Client app was approved and available in the Apple App Store as of March 18th.
This tool brings monitoring to mobile devices. While some tools like Windows Intune let you access the monitoring console from a mobile browser, VMware built an app from the ground up to give IT professionals access to the virtual machines they monitor from wherever they are from the iPad..
You can monitor performance, keep an eye on your host servers and all of the virtual machines associated with those servers in a visually attractive, easy-to-manipulate interface.
The way it works is you download the app, log into your VMware account and you get access to all of the servers under your watch. You click a server and you can see the all of the virtual machines running on it. It even provides little icons like Windows and Red Hat to let you know which virtual machines are running a particular operating system. You can see a shot of this screen below: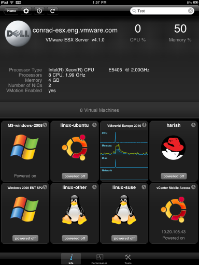 Once you have a server displayed you can put it in maintenance mode or even reboot it remotely from your iPad if need be.
Clicking on a particular virtual machine displays a screen with information about that virtual machine such as recent events, and each virtual machine has controls like the server that let you suspend, stop or restart it as needed.
What's more you can see the amount of memory and CPU that the chosen virtual machine is using from the server as a whole.
We like to show many examples of different types of monitoring on this blog, and this new tool from VMware brings virtual machine monitoring to a new level. It might not be as comprehensive as the tools you have access from your PC, but it provides a lot of good information to help you manage and understand your virtual machine environment from an iPad and from a monitoring perspective, that's pretty exciting stuff.
Screenshot courtesy of VMware.