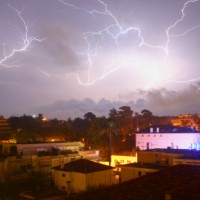 I live in the Washington, DC metro area, specifically the 51st state – Northern VA or better known as NoVA.  Fortunately, I was not affected by the storms and power outages of a couple weeks ago.  However, Amazon and their Ashburn data center once again.  Once again, many of us social media users found the pain of the outage.
How many outages do we have to endure before these folks put together better monitoring and DR plans?  The outage begs the question of how important are these sites in the grand scheme of things as it relates to human life, power outages, tainted water and housing destruction during a storm.  My response is all in how you look at the situation.  One way to look at it is this is their business and livelihood, so DR should be relevant.  Another is that many of us use these sites during times of destruction to communicate with the rest of the world, not just for fun or business.
As a marketer and business persoin, I find it interesting none of them have found it a competitive advantage to have the best plan and be alive when their competition is down as Okta exclaimed over this last outage, but security is their business and they must be alive at all times to retain customers.
I'm excited about all of the change with technology underfoot, but control and flexibility must be weighed.
How are you preparing to manage your mixed environment?
Michele
___________________
Travis just posted, "Unlike the Weather, You Can Choose Your Cloud", discussing the recent power outages we experienced here in the Northern VA area last week. As a native of this area, thunder storms and hurricanes do pass our way and affect us during this time of year. Late May of 2008, we had a storm very similar to this one and this isn't the first Amazon outage, "Amazon EC2 Outage Downs Reddit, Quora" April 2011, nor will it be their last. Intuit's SaaS QuickBooks was down 36 hours in June 2010, "Update:  Intuit Sites Outage Strands Thousands of SMBs". Or just this past Tuesday Salesforce.com was down, triggered by a power outage at an Equinix data center in Silicon Valley. Each time one of these outages occurs, it gains big headlines that the cloud has failed.  (Read more here …..)