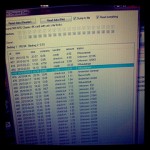 In February, I had the pleasure of attending the Western Mass Pod Camp, a one-day "un-conference" held each year in western Massachusetts where among the speakers I saw was Dave Wieneke, Dave got me thinking of something I hadn't considered before, and that's the idea that apps on mobile devices not only provide users with valuable data (sometimes), they have the capacity to transmit data back to your company as well…if only you know what to do with it.
In fact, according to a report from analysts Heavy Reading, it's no coincidence that large companies like IBM and Adobe have been buying in Analytics companies like they're going out of style. Analytics, as we've written here are interesting to anyone following monitoring because they give you insight into your customer behavior. This in in stark contrast to a print ad, for instance, which could have some call to action, but usually you buy it and hope for the best with very little way to measure the ad's effectiveness outside of a focus group.
The Web in general changes that dynamic by giving you the ability to gather a number of kinds of data about visitor behavior to web sites. When you have an app sitting on a mobile device, the potential is perhaps even greater. Weineke gave the example of a car maker that gave out iPads equipped with the car's owner manual with every purchase.
This was more than a gimmick, it was a way of gathering data. The car company could see each time an owner looked up a problem. They could see which features were hard to use, what parts might be causing the biggest issues and in general follow the customer experience through their interaction with the manual. It's a narrow view for sure, but one that certainly provides valuable insight.
Companies need to be thinking about apps more in terms of how they can use them to collect aggregate data. If you're in a position to collect and analyze data, and you give thought to data gathering as part of your design process, you can give your company some valuable customer feedback without asking them directly for it.
Photo by illustir on Flickr. Used under Creative Commons License.