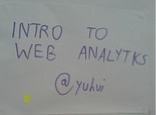 While we talk about monitoring in the enterprise a lot in this blog, we tend to think of it as keeping an eye on our enterprise systems and not very much about our customers, but today's Web Content Management systems and analytics tools have the power to give you insight into your Web site visitors, even going so far as helping you customize the user experience based on previous behavior.
Analytics in their own way are data you can use,  just as you can use data from inside the enterprise to help you beter understand your users and systems.
The great thing about a web site is that you have that ability to collect data either in aggregate or based on individual user behavior (such as buying habits). Amazon is famous for this approach. When they see you bought a certain item, they suggest other items you might like based on your buying history. For others, it may be just understanding general patterns of customer behaviors to build different paths through the site based on high level categories.
Marketers refer to these general categories as personnas. If you're a hotel chain, you might have several personnas around the types of guests you have such as business travelers, vacationers, event planners and so forth.
You can also learn about your visitors based on information they provide. For instance, when a visitor signs up for your newsletter, you could use that opportunity to collect other information abou them such as basic demographics about where they live and so forth.
As you gather all this information though, the idea is to make use of it, just as you do any other business information inside your organizaton. With Business Service Management (BSM) it might be more related to the operation of your overall systems. With business intelligence (BI), it might be related to your overall business performance and with analytics it's about understanding your customers better.
Photo by yuhui on Flickr. Used under the Creative Commons License.