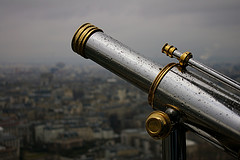 Once upon time, you tended to side with a single vendor. You were an
IBM
shop or a
Microsoft
shop. Those days have disappeared for most organizations. Heterogeneity rules the day and it complicates the life of any IT pro.
When you take the diverse set of hardware and software found in any large enterprise today and you factor in the cloud with a set of virtual services and external cloud vendors, it complicates the situation even further. And it begs the question about how you control it and get a broad view across the entire spectrum of hardware and software inside and outside your organization.
There are no simple answers to monitoring an increasingly complex computing environment, but a recent article on ITBusinessEdge called A Growing Problem: Data Management on the Cloud suggests there is a way to gain some semblance of control of this situation. And that is the subject of this blog: Business Service Management tools.
The article quotes,  Vikas Aggarwal, CEO at Zyrion, who calls BSM, "the ideal approach for addressing the rapidly growing cloud manageability issues."
That's because BSM tools at their best give you the ability to look across the entire environment, to see what's working and what's not, but it's not just simply what's on and what's not. A good BSM system gives you insight across the business and the impact it has on what you do.
And it's not just the fact that you are in the cloud that's the issue. It's so much more than that. You are spread across geographies. You are physical and virtual. You have a set of services you provide and all of the components that make up that service have to be in sync.
No tool is a panacea to the problems that face IT, but one way to get on top of the situation is to have a broad view across your computing landscape, whatever it comprises and wherever it lives and BSM, at least gives you a fighting chance to see the big picture.
Photo by ny156uk on Flickr. Used under the Creative Commons License.