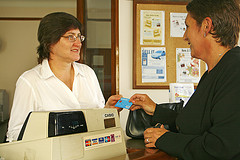 I remember when I first started working for a consulting firm back in the 80s, how surprised I was to find that departments inside a company charged one another for services rendered. Today, as IT moves to internal or
private cloud environments
, you are setting up a series of internal services, for which you
charge back based on usage
, and you better be prepared to justify those costs to your internal customers.
In some ways, charging for private cloud services is infinitely more fair than in the client-server model where everyone might have divided the cost equally even if one department was using the server more than another. With a private cloud, it becomes more like a utility bill, where you pay for what you use.
But as I learned in my first work experience, when you charge for a service, you may find that people can find a cheaper alternative elsewhere outside the company, so you have to be able to justify your costs. The copy center was a good example. Consultants could use the in-house service, or they could go to another copy center (if company policy allowed this).
We liked to think we provided a unique service. We worked beyond regular business hours and we boxed and shipped the items, sometimes at the last minute under great time pressure. Sure, they might find it cheaper at another copy center, but those people wouldn't necessarily put up with their unreasonable demands.
But as costs tighten for everyone, being able to provide a service you can trust in-house for a reasonable cost based on understandable and measurable terms, becomes even more important than it was back in the 80s when I started my job. That means making sure your services are easy to access and use and guaranteeing certain service levels.
You can ensure that your systems and services are up and running by providing your IT department with solid monitoring tools that provide real metrics about up time. This can work in two ways. First of all, it lets your IT staff know when something isn't working so they can react and fix it immediately.
Secondly, it gives you metrics that you can share with your internal customers to let them know in a fully open and transparent way just how often you are up (or down as the case may be). When you have solid data about the health and well being of your whole system, you can better justify the cost of the services you offer through that system, leaving you with a group of customers who might not always like the cost of the services, but at least understand what it is they're paying for and why.
Photo by alanclever_2000 on Flickr. Used under the Creative Commons License.