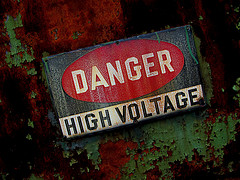 The recent earthquakes in New Zealand got me thinking about early warnings.
A CIO.com article
suggested that computerized early-warning signals might help warn people of impending disasters like the one that happened in February. What do earthquakes have to do with IT? Well, you might need early warning systems too before disaster strikes your system.
In the CIO.com article, researchers were talking about warnings measured in seconds, but suppose you had the power to stop your network disaster long before it happened? A good monitoring system can give you that power. It may not save lives as the earthquake systems have the potential to do, but it could save your company money and you and your colleagues loads of frustration and aggravation.
Earthquakes leave death and devastation in their wake. I don't mean to equate human misery on that scale with a computer outage, yet when systems go down it still can affect many people depending on its scope. If a service like Gmail goes down it could have an impact on millions of people.
When your mission critical systems go down, it can have a profound impact on productivity and that translates into actual dollars and cents measured in hours of lost productivity. If your web site goes down and you rely it on for ecommerce purposes, you can equate it with actual lost dollars
Regardless of how you measure it or look at it, if you could prevent a systems disaster  most companies would do it. And when you have good measuring systems in place and tuned correctly to measure how well your systems are running, you have at least the potential to help troubleshoot and prevent long term outages on your system before they cause problems.
It is certainly not on the scale of an earthquake, but you can implement your own early warning systems before disaster strikes your systems.
Photo by Rhys's Piece Is on Flickr. Used under Creative Commons License.