IT is in the midst of a great transformation and wrote about this in a previous blog as referenced by a CIO article and a Forrester blog.  For those of us who have been in and around IT for the past 20 years, we've seen this ebb and flow of change.  New technology, growth of service providers, decentralization and then back to centralization and cost containment.  It was desktop computing and LANs, web services and eCommerce and now it is the cloud.  This time is different though, the business is driving and creating the new IT.  There is competition and easier buying models that didn't exist previously.  I will also state that outsourcing is not cheaper, it is creating the change that cannot be created from within – the new IT requirement.
In the previous post and CIO article, I mentioned IT needing to run more like the vendors they purchase technology from and marketing would become a key component.  Many think of IT marketing as marketing great technology services and uptime within the organization.  It is just this wrong kind of marketing that is driving the transformation for change.  Your business does not care about technology uptime, the business cares about driving out cost for profitability and driving up revenue for growth and profitability.  Marketing of IT has 3 facets:
Know your services, their cost and value
Know your competition and their capabilities
Know the market requirements of your customers
This is a transformation where internal IT is already late for the dance and few possess the capability to enter the dance floor with a perfect tango balancing technical capability and innovative intrigue.  The competition knows this weaknesses and is capitalizing on it.  Technology vendors are also making the shift as to who the new buyers of technology and services are – the business and the service providers.  The difference between the technology vendors and IT is that the vendors are used to identifying markets, trends, shifts and making the adjustments required to capitalize on a market based upon the buyers and their requirements.
Know Your Services
Assess your current landscape of services and future services and where they fall into this simple grid.  This will help you to understand business drivers.  For example:  services for competitive advantage have little care for cost or quality, it is about speed to market.  In order to accomplish this, IT will require the flexibility to deploy with speed and mitigate cost and negative customer impact with controlled risk.  This is service enabling the infrastructure leveraging management technology to perform the monitoring and controlled risk, while the technologists apply the internal IP to the services with the right technology and right deployment options.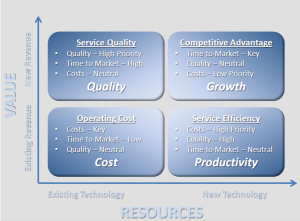 This will transform IT into the service managers that are developing in the business today with the underground New IT movement.  I would suggest that the model adopted by IT in their strategy to transform would be applying focus of time and resources as accordingly:
50% on services driving competitive advantage
30% on services for service quality and service efficiency
20% on services driving out operating cost
The competition is focused on addressing the requirement of competitive advantage in your business, this is ITs greatest weakness and the service provider / vendors greatest ability to drive value.  ITs marketing efforts must begin here in developing the holistic strategy of technology, deployment options, cost and value to the business.
Know the Competition
Developing a holistic strategy will include a multi-vendor and service provider approach.  Understand internal strengths, weaknesses and the outside capabilities to drive the highest value, lowest cost solution and deployment.  This would break the traditional cycle of change driven out of frustration to outsource, not value or cost.  Outsourcing is not the lowest cost option, but right sourcing to meet the right objectives to deploy the right solution is IT transforming into strategic.
The competition also has weaknesses in high growth times like these.  The strength of IT is operational focus, while both the providers and IT could benefit from a bit of operational maturity, now is the time to illustrate operational maturity with good management practices, processes and ability to communicate business value.  The service providers are investing in the communication, while taking a risk (controlled risk in some cases) on management in meeting a time to market requirement.  To meet the same time to market requirement within your organization, evaluating how you leverage management technology to automate your processes and provide the communication required for your business, would provide both competitive advantage and allow you to focus your IP on driving new services.
Know your Customers
Typically when you ask IT about their customers, they respond with their users and internal employees.  Here I am speaking about knowing the customers of your business.  Why do they select your company for your services?  What do you do better than your competition?  Who is the competition of your business?
Instead of working to control the environment so tightly and throw up obstacles and barriers to change and adoption of new technology and interactions with both the employees (Service Efficiency) and customers (Competitive Advantage), embrace them.  Understand how and why they seek to use specific devices, technology, methods of interaction, etc. and how to best deploy the right option.  This is understanding the requirement, not necessarily mimicking each and every device and method.  Provide the flexibility, while balancing control and risk.  This is most important when evaluating customer requirements and creating loyalty.
Think about who you prefer to do business with and why in your personal life and bring this into your IT organization to start the transformation revolution.  While I agree that marketing within your organization is relevant, marketing the right services and message will drive the greatest value in your organization.  This is dependent upon knowing your customers, requirements, competition and a focus shift from technology operators to communicating and driving revenue as service managers.
Do you know your services, customers and competition?
Michele