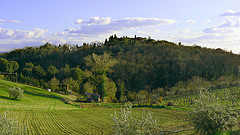 I came across
an article
the other week questioning whether cloud computing was actually greener than conventional enterprise computing. On its face, the fact that you are using resources more efficiently would suggest that it is, but how do you prove it?
One of the cornerstone concepts of cloud computing, whether you're using a private cloud in-house or a public cloud is the ability to use fewer resources more efficiently. Last year while attending the MIT Sloan CIO Symposium, I learned that Salesforce.com uses less than 2000 servers to support more than 72,000 customers. That's efficient.
But it's not just the efficiency that's a factor here, companies like Google, Yahoo! and Amazon  that are running hundreds of huge data centers have a stake in making sure they are running as efficiently as possible because extra energy isn't just bad for the environment. It's bad for business.
When I was at CeBIT a few weeks ago in Hannover, Germany I saw Chang-Gyu Hwang, who is National CTO of South Korea talking about using the heat generated by buildings in cities to generate more energy. This same principal could be applied to server farms to generate the electricity to run them.
But it's still open to debate, which brings us to measurements. When you have a system in place that enables you to measure the energy you're using, you can begin to quantify your energy usage to the extent possible.
On one hand, if you move some of your functions to a public cloud, you off-load some of that energy consumption to the vendor (but you could still see it as part of your company's carbon footprint).
If your vendors provide this type of information, you could plug it into your monitoring infrastructure to track energy usage as part of your overall business measurement goals.
And if you use virtualization in-house, you might be using the same number of servers (or even less due to increased efficiency), but you'll be using them to greater capacity meaning that they aren't just sitting there doing nothing a good part of the time (yet still using the same amount of electricity regardless).
Having tools in place that manage your entire business IT infrastructure across different types of measurements including energy consumption, can help you fully understand your business and the impact your energy usage is having on the environment and your bottom line.
Photo by AleBonvini on Flickr. Used under the Creative Commons License.