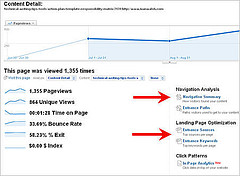 No discussion of analytics is complete without discussing
Google Analytics
, the free analytics tool from Google. It can provide your company with a wealth of valuable data about your web site's visitors. You simply add some code to your web site, and Google begins analyzing the traffic for you.
Each time someone visits your web site, Google records all kinds of information including the source of the traffic (e.g., direct or Google search), the browser, operating system, country and more. You can learn which content is most popular and how long visitors stay on your page (called the bounce rate).
What's more you can set up experiments to see which content or design attracts more visitors and advanced metrics that meet the needs of your individual sites. This is highly sophisticated and deeply layered –not your typical basic information that you would expect with a free tool
Google Analytics is a must-have for every web site administrator because it lets you understand at a very granular level the behavior of your web site visitors. While there is probably a trade-off for this as Google is using this aggregated data for its own needs, for many companies the trade-off is worth it because of the amount of information you can gather and make use of.
As we've shown throughout this series on analytics, they are a fascinating part of monitoring the activity inside your organization, and while analyzing web site data is different in many ways from the types of information you get from business service monitoring, it still provides a treasure trove of useful information to help you understand your customers better and how to improve your company's web site.
We hope this series has given you at least some understanding of this type of monitoring and how you can make use of it in your organization.
Please see the other posts in this series including: