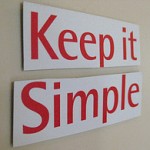 While attending the CeBIT technology trade fair in Hannover, Germany, I saw a presentation by Paul Strong, CTO at VMware for Europe, Middle East and Africa, where he spoke about the relationship between cloud services and IT.  One thing he said really struck me: "When you pull apart software, you're pulling out business processes."
It's a notion that really makes sense, but he took it even further. He said that 80-85 percent of your business costs are related to software. If I had been asked that before seeing this presentation, I think I would have said hardware was more costly, but Strong pointed out that this is because it's very difficult for most enterprises to achieve the kinds of economies of scale to bring cost down. What's more, he said that complexity drives cost.
That brings to mind the Dawn of a New Day farewell email that Ray Ozzie sent to Microsoft employees to announce his departure last fall in which he said, "complexity kills." Specifically he said:
Complexity sucks the life out of users, developers and IT.  Complexity makes products difficult to plan, build, test and use.  Complexity introduces security challenges.  Complexity causes administrator frustration. And as time goes on and as software products mature – even with the best of intent – complexity is inescapable.
Software complexity is not only bad from a design standpoint, it also has a profound impact on IT and how they deal with patch management and upgrades and the myriad of problems and challenges associated with maintaining software in the enterprise.
That's why Strong says moving non-critical processes to the cloud makes so much sense because cloud software vendors remove a lot of the complexity associated with enterprise software maintenance. They reduce the processes to a smaller, more manageable number of patterns, and they deal with upgrades and server maintenance for you.
From  your perspective, it changes the role of IT. As Strong said, it enables IT to return to its core purpose to map technology to business needs and to make smarter choices. Your job is no longer babysitting the software, but watching the entire system and making sure those systems work as they should and meet the needs of your organization.
Photo by Jimmie, Jackie, Tom and Asha on Flickr. Used under the Creative Commons License.