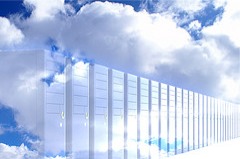 As you look at cloud computing, it's useful to understand that there are three types of services offered:
Infrastructure as a Service (IaaS): This gives you access to storage and servers in the cloud. Examples of vendors in this space include Amazon, IBM, Rackspace and Verizon. The advantage of this approach is that you can expand and contract as needed. If you anticipate having a rush coming such as a big sale, you can expand your servers to meet the increased demand, then go back to your normal numbers when the sale period is over. It prevents your system from going down from because you don't have the server capacity to handle the traffic. This elasticity (scaling capacity up and back as needed) and paying for what you use are two of the hallmarks of using IaaS.
Platform as a Service (PaaS): This service provides a platform on which you can build applications usually linked to a particular vendor. A good example of this is Salesforce.com's Force.com service, a cloud-based development environment for building applications on top of the Salesforce.com service. Force.com gives you access to a number of developer services you can tap into to help you build your applications.
Software as a Service (SaaS): Perhaps the most recognized of the three cloud computing types, it provides access to a software service in the cloud.  There are countless examples of this available today  such as Google Docs or Gmail, which gives you access to word processing and email in the cloud. No documents or mail are stored locally and you can access your content from anywhere. All backups and updates are handled on the back end by the provider, greatly simplifying software maintenance.
Once you have a basic understanding of how cloud services break down, it's useful to think about how these different levels of cloud services could affect your IT environment, how comfortable you might be farming out some of these services to the cloud and what impact it would have on your ability to understand and monitor these different services as part of your overall IT job function.
Photo by Lucien Savluc on Flickr. Used under Creative Commons License.