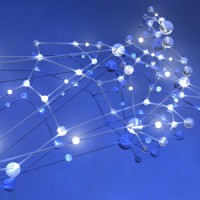 We had a snow storm the other day, during the night we lost power and by morning, the house was cold.   I was able to get on the internet with my laptop which has a cellular wireless connection as well as my cell phone.   I checked some emails for work purposes and then went to the electric companies website to see if there were any details on the power outage in my area.   I found a link on the home page which lead me to an up to date map on outages and details on the outages.   From this map I was able to find my location on the map, click on the red circle and get estimates on when the service (electricity) would be restored.
It is nice to see a service provider that leverages technology, by them having an up to date website with details on the services they are providing to me, I will not be calling into them to speak to a representative for an update.  Granted, for this type of situation the dial in method would probably have some very long generic recording, just not sure I'd be interested in listening to the whole thing before hitting buttons to get directed to a human being.
The moral of the story, having dashboards for customers to log into to check on the services a service provider is providing was at one time a differentiator, it is now an assumed feature of the service being provided.     The same is true for the IT department.  I want to log into a dashboard to check on my active helpdesk tickets and planned maintenance and active outages (with updates on when they will be resolved).
Business Service Management is the methodology for gathering all of the details and populating the dashboard for the customers.